See on Scoop.it – Writing "Rightly"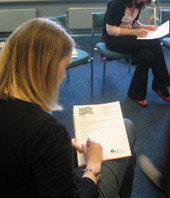 You do not have to "go it alone". We are social creatures, and we were created for interaction with others. How will you know what people think of your writing, and your books, if you don't get some kind of feedback? Your computer doesn't talk back to you, and you can't grow, as a writer, unless you receive some feedback from your fellow man.
This post gives some great tips for finding some others that you can click with, interact with, and grow with. There are all kinds of writing groups, from impromptu wine-fueled evenings in somebody's loft, to groups that follow a rigid schedule every third Monday of the month, to an open format where anybody can bring in pages every meeting.
It doesn't matter what "kind" of group you join–just find one and join!
This review was written by Penelope Silvers for her curated content on Ebook Promotion and Marketing at www.scoop.it/philosbooks

See on beyondthemargins.com