See on Scoop.it – Writing "Rightly"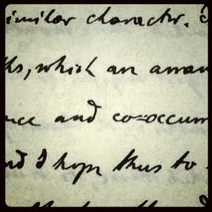 I asked several of our authors to offer one tip for aspiring writers. This is what they sent in: JOHN GWYNNE: Write for yourself. Something that you want to
Penelope's insight:
It is always inspiring and enlightening to read tips from other authors. I certainly don't feel I have learned everything I need to know to be a superb and prolific author, nor do I think I will ever feel that way.
 Here's a few tidbits from this excellent article to think about over the weekend:
 1) Write for YOURSELF! – If it is something you would like to read, someone else in the world probably will enjoy it as well.
 2) Don't listen too hard to your INNER CRITIC – Ah..the ever present negative voice inside the head of every author. We are forever shushing that voice.
 3) Never FINISH a writing session by finishing off a scene – The author suggests trying to stop in the middle of a sentence. This causes you to be anxious to get right back to the page the next day. This is a new one for me, but it would actually cause all of your senses to be tuned in to finishing that scene.
 There are several more, so you can head on over to the full article to see if you can add some more nuts and bolts to your author's tool kit.
*****This review was written by Penelope Silvers for her curated content on "Writing Rightly"*****
Link to the original article: http://torbooks.co.uk/2013/01/24/tors-top-tips-our-authors-on-writing/#more-7897
See on torbooks.co.uk