See on Scoop.it – EBook Promotion and Marketing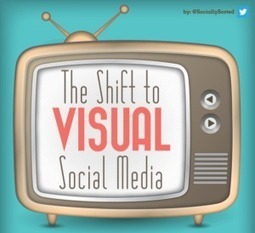 Our focus has shifted from Social Media to Visual Social Media. This infographic shows 6 ways to leverage the power of visual marketing in your business. 
Penelope's insight:
Has there been a tectonic shift from Plain Jane social medial to stunning VISUAL social media? I can only speak for myself when I say that I love looking at visual aids. I loved it in high school (what a refreshing change from a boring history lecture) and I love it as an adult. If I can learn something by glancing at a picture in a few seconds vs. reading a big, long article, I'm all in! Plus, this could explain the popularity of the new social media star–Pinterest.
How about this stat: In 2012 alone, we have seen You Tube pass 4 BILLION Daily Video Views and Pinterest became the 4TH LARGEST driver of traffic WORLDWIDE!
Here are 6 Easy Actionable Tips for leveraging the power of visual marketing for greater reach and engagement with your readers.
 1) SHOW, don't tell (if possible) This includes pictures, images, infographics, videos, graphics, slideshows and animations.
 2) Create ORIGINAL, visual content (take pictures of you and your books, create some new images using quotes, checklists, tutorials, infographics, videos, slideshare presentations!)
 3) SHOWcase the Story of you and your books (Images = Emotion and Connection)
 4) CROWDsource Visual Content (ask your network to help you out)
 5) ADD back the Words (sometimes a picture needs explaining)
 6) MIX it up! (overlay text on photos, tweet, pin, facebook) Go back to tip #2 for advice on how to do this.
 There is a beautiful infographic in the article, as well as quite a few examples and the explanations that you can pull from on how to create your very own visual social media for your author platform.
 *****This review was written by Penelope Silvers for her curated content on "Ebook Promotion and Marketing"*****
 Link to the original article: http://sociallysorted.com.au/shift-to-visual-social-media-6-tips-for-business-infographic
See on sociallysorted.com.au