See on Scoop.it – Writing for Kindle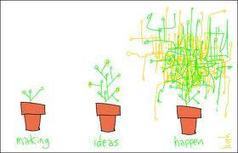 What entrepreneurs and self-publishing indie authors have in common."
Penelope's insight:
Self Publishing Authors = Entrepreneurs.
The sooner indie authors begin to see themselves as entrepreneurs, the sooner they can make headway (on their own terms) with their writing futures. 
This is second-nature to me, and I suppose I take it a bit for granted, since I have lived with an entrepreneur for a quarter of a century. I have watched him build companies from the ground up with absolutely nothing.
Compare self-publishing tasks with tasks of the classic entrepreneur, and they are no different. Writing a book and marketing said book is no different than creating a product or company and sending it to market.
As a writer and self-publisher, you must realize that you have now become an entrepreneur. An edit to your manuscript may not be what's needed–it may be an edited perspective.
 ***This review was written by Penelope Silvers for her curated content on "Writing for Kindle"***
 Link to the full article: http://selfpublishingadvice.org/blog/successful-self-publishing-authors-are-entrepreneurs/
See on selfpublishingadvice.org