See on Scoop.it – EBook Promotion and Marketing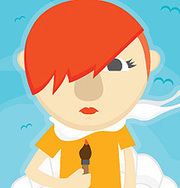 This humorous infographic breaks down the seven different types of digital marketers. It highlights how modern marketing is unique and creative today.
Penelope's insight: 
Find your inner digital e-book marketer within this funny and visually entertaining infographic. Are you a:
1) DATA WHIZ  (Data-obsessed)
2) E-ARTISTE   (Adores visually appealing graphics)
3) SOCIAL MEDIA MASTER   (Caught that social media bug)
4) BETA-TESTER   (Everything mainstream is so over!)
5) MARKETING MEGAPHONE    (Loudest voice in the room)
6) OLD SCHOOL ADVERTISER  (What's wrong with the 60's?)   -OR-
7) SNARKY MARKETER   (Knows what you're doing wrong)
 I think I'm a combination of #2, #3, and #6!
 ***This review was written by Penelope Silvers for her curated content on "Ebook Promotion and Marketing"***
 Link to the original infographic: http://www.bitrebels.com/business-2/digital-marketers-modern-marketing/
See on www.bitrebels.com