See on Scoop.it – Writing for Kindle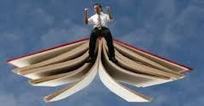 Should I Self-Publish? This is a question we're regularly asked at ALLi by writers of all kinds, beginners and experienced. The answer, as is the answer to so many writerly questions is: it depends.
Penelope's insight:
Let me bluntly say right now: "Being your own publisher is not for the faint of heart". You must be a special breed of person if you plan on writing your own books–and self-publishing them. You are basically doing two separate jobs.
I liken "indie authors" to the pioneers of old. We are blazing new trails for others to follow. If you want to be one of the "pioneers of new", you'd better check your temperament to see if you possess some or all of the 10 qualities highlighted in this excellent article. I've highlighted 3 of them here: 
 1) POSITIVE – You had better have a positive attitude, because you're not going to have a boss hovering over you, telling you everything is going to be alright!
 2) BRAVE – We indies thrive on risk. We are idea people. We risk our money, confidence, and reputation before the first dime comes in.
 3) HARDWORKING – We think nothing of putting in 16 hour days. We've got energy, and we channel it into the future we are creating for ourselves. We educate ourselves on all aspects of self-publishing. We are not dummies and not easily taken to the cleaners.
Peruse the full article for the remaining 7 suggestions, and see if you are also one of the "pioneers of new".
*****This review was written by Penelope Silvers for her curated content on "Writing for Kindle"*****
 Link to the original article: http://selfpublishingadvice.org/blog/10-must-have-qualities-to-succeed-as-indie-author
See on selfpublishingadvice.org