See on Scoop.it – EBook Promotion and Marketing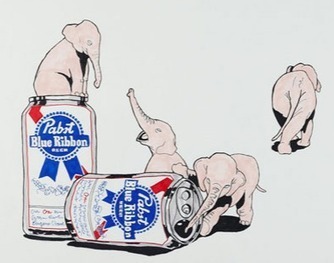 In any discussion of the masters of B2C social media, the usual suspects—Zappos, Ford, Starbucks, Dell, Coca Cola—are most often touted. There is, however, one …
Penelope's insight:
What can beer teach authors about social media strategy? Specifically, the long lasting Pabst Blue Ribbon?
 I love small, short lists that I can remember and this post is no exception. Here's a quick lesson in 3 things we can learn from Pabst's oddly simplistic Social Media Strategy:
 1) Don't OVERTHINK it! – Pabst tweets no more than a few words, accompanied b a single photo. "It's about to be a party", "Friday Night", "Merry Pabstmas", or just "Party tip: Beer".
 It is still true that a picture can be worth a 1,000 words. Adapt this strategy to your books.
 2) Have a CONSISTENT voice – Pabst is considered carefree and reflective. Find your voice and use it consistently.
 What is your author voice? What do you want to say to your readers?
 
3) Know your AUDIENCE – Pabst understands theirs. They turn their FB page into a whooping Pabst party instead of the usual contests, and promoting new products.
 
The lesson here? Have fun–engage your readers and give them a fun time, too!  Brainstorm this strategy and figure out a way you, as an author, can give them a Pabst Blue Ribbon experience with your books! 😉
*****This review was written by Penelope Silvers for her curated content on "Ebook Promotion and Marketing"*****
Link to the original article: http://www.slingshotseo.com/blog/3-things-you-can-learn-from-the-wonderfully-odd-simplicity-of-pabst-blue-ribbons-social-media
See on www.slingshotseo.com