See on Scoop.it – Writing for Kindle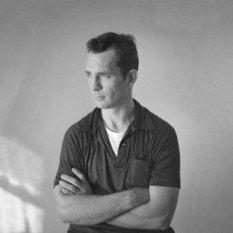 Jack Kerouac is the patron saint of every starry-eyed, born-too-late, wanderlusty hipster scribe who falls in love with the poetry and visionary power of their.
Penelope's insight:
Was Jack Kerouac the patron saint of writing? Could even a saint have used a good edit now and again?
 Despite his aversion to tidiness, Kerouac, like almost every writer, made lists; one in particular is thirty guidelines he called "Belief & Technique for Modern Prose".  This article highlights ten of them.
 Writers–don't take this list to heart, and think you must follow them to write. Each of us has our own style and must follow our own path. These guidlines are more for a chuckle than advice to dive into for your own writing. Stay true to your own voice.
 *****This review was written by Penelope Silvers for her curated content on "Writing for Kindle"*****
 Link to the original article:
http://www.openculture.com/2013/01/jack_kerouacs_30_revelations_for_writing_modern_prose.html
See on www.openculture.com