See on Scoop.it – EBook Promotion and Marketing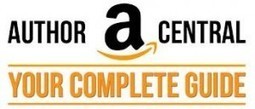 Amazon gives us so many F-R-E-E tools to promote our books, if we would but use them. If you have your book up for sale on Amazon (printed or digital), now there is no excuse not to take advantage of Author Central.
Second post in the "50 Ways to Reach Your Reader", offers so many excellent ideas. Here's a summary of the three tips to get you started:
1) Begin with your Author Page – Sell yourself! Find a great pic to upload, tell your readers who you are–be creative! You can even do a quick author video, and tie in all your social media feeds to your very own page.
2) Improve your Book Description – Sell your book! If you don't know how to write a great sales page, find someone who does. This is your storefront! What is your book all about?
3) Get More Reviews – Offer a free copy of your book for reviews, tags, and likes. Visit forums. Try to get at least 5 posted before you offer it for free through KDP. Ask for reviews at the end of your book!
This review was written by Penelope Silvers for her curated content on Ebook Promotion and Marketing at www.scoop.it/philosbooks
See on selfpublishingadvice.org