See on Scoop.it – EBook Promotion and Marketing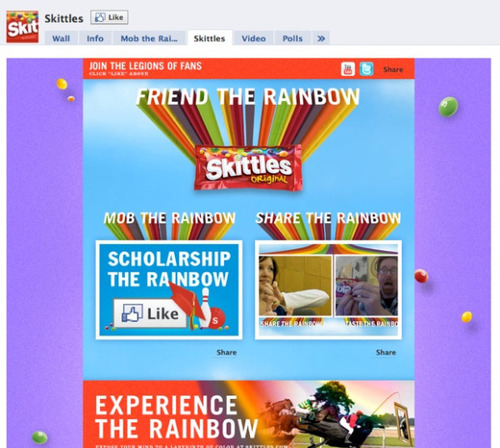 Marketers are becoming more and more interested measuring the ROI of social media.
Penelope's insight:
 Do you need to create a Facebook Fan page for your promotion of your author name and your books? Take a cue from some of the best. Here's a great article on 20 examples of Great FB Fan Pages that you can pull from. Why not mimic something that works? See if you can pick up a tip or two for yourself. At the very least, create your fan page so you have that LIKE button available! Your fans may not want to leave a comment, but will click on "Like" button every time!
 Here's a few of them and my first impressions:
 1) SKITTLES – Beautiful, eye-catching colors, "Like" button clearly displayed, a contest which racked up 1,000's of views on You Tube!
 2) MCDONALDS – Food at the top (yum), and a contest featuring "short" and "quick" mental games that encourages fans to share their scores with friends– thus promoting VIRAL sharing.
 3) DORITOS – Uses their Fan page to promote their commercials (other content), and fans' commercials (hilarious and viral producing)
 4) VICTORIA'S SECRET – Sexy women in bras, and access to their i-pad and i-phone apps for sexy "anytime" and "anywhere". Need I say more?
 There are 16 other really stand-out facebook fan pages in this article, so take a look at the full article for more great tips you can use for your very own fan page.
*****This review was written by Penelope Silvers for her curated content on "Ebook Promotion and Marketing"*****
 Link to the original article: http://blog.hubspot.com/blog/tabid/6307/bid/9469/20-Examples-of-Great-Facebook-Fan-Pages.aspx
See on blog.hubspot.com